Innovation Helps Brands Upgrade Globally Countdown to 2022-2023 Global Top Brands Award Ceremony
2022-12-23
On January 5, 2023, the Consumer Electronics Show (CES for short), the world's most famous and largest consumer electronics industry event with high popularity, will be unveiled in Las Vegas, US, where over 100,000 people will gather once again.
Meanwhile, the Global Top Brands Award Ceremony (hereinafter referred to as GTB), hosted by Asia Digital Group, and European Digital Group, and supported by TWICE and International Data Corporation (IDC), will announce winners on January 6. The GTB has showcased global consumer electronics brands to consumers all over the world for the 17th consecutive year to enhance the popularity of major consumer electronics companies in the international market and facilitate the development of the global consumer electronics industry.
Innovation Plays a Leading Role in Helping Brands Embrace Global Challenges
With the integration of burgeoning technologies such as 5G, IoT, AI, VR and new display devices with consumer electronics products, iterations are accelerating and new forms keep popping up, so competition in the consumer electronics industry dominated by scientific technological innovation is becoming increasingly fierce.
According to Zhu Dongfang, president of Asia Digital Group, this GTB will evaluate centering on innovation and global strategy of brands to encourage global consumer electronics brands to upgrade technological innovation and create newer and better products. Innovating marketing strategies and brand services from a global perspective will be considered as well to provide consumers with products and services of higher quality in the hyper-competition of the global market that achieve the goal of promoting stable and rapid development of the global consumer electronics industry.
Since its inception in 2006, the GTB, as one of the most authoritative, professional and credible selection events in the global consumer electronics industry, has been adhering to the principles of authority, science, professionalism, objectivity and impartiality and has released the most influential list to the world.
This year's selection evaluates the participating brands from four dimensions, industry popularity, global strategic layout, influence on international market, and product innovation. The global sales, overseas sales, annual product shipments and market share of brands are all based on authoritative third-party data such as IDC and GfK. Furthermore, a panel of global senior experts composed of world-renowned manufacturers, patent agencies and event organizers will evaluate in an all-round way from multiple dimensions including the candidates' internationalization, overseas competitiveness, consumer experience, technological innovation and patents, overseas brand awareness, and brand management in internationalization. Candidate brands will also be announced simultaneously on the official websites of the GTB and mainstream media for public voting. The final list will be released on CES Daily and TWICE and publicized by over 1,500 media around the world.
The GTB list enables those engaged in the industry to deeply understand and discuss hot issues and cutting-edge products. It is an important platform for companies to follow the trends of the consumer electronics industry, penetrate global market, and share business opportunities in the global consumer electronics industry. It's also a vital reference for global consumer electronics enthusiasts in purchasing products.
It is reported that the shortlisted brands include Apple, Samsung, Tesla, Amazon, Haier, TCL, Changhong, Hisense, BOE, Xiaomi, Midea, Siemens, TECNO, Ericsson, CHiQ and other leading global brands in related industries. The intense competition is worth anticipating.
Innovation Assists in Competing for Annual Global Model
Driven by factors such as continuous technological innovation, the consumer electronics industry has developed rapidly in recent years. According to data from Statista, the global consumer electronics market will reach 1.11 trillion US dollars in 2023, with a huge market and a brighter prospect.
Gen-Z consumers are gradually becoming the backbone in the digital age when new concepts of immersive experience and full-scenario consumption continue to emerge, and the consumer electronics industry is also showing new trends. "Screen Connects Everything" has become an important engine for the future consumer electronics market. In addition to mobile phones, computers, televisions and other consumer electronics products with display as the main function, household devices such as refrigerators, cabinets, air conditioners, range hoods, full-length mirrors, loudspeaker boxes and pianos can be upgraded to those with display screens. The display screen has been upgraded from a port for information presentation to a control center for human-machine interaction, AI and IoT. Consumer electronics products are moving from "Internet of Everything" to "All-Scenario Intelligent Connectivity" with boundaries gradually being broken, manifested in transitions from connectivity between devices to that between systems, from data transmission to perceptual interaction and analysis feedback of information, and from single-scenario application to multi-scenario integration.
The GTB has always been committed to hot trends in the global consumer electronics industry to set global models and lead the trend of the industry. A total of seven lists are set up in this GTB, including 2022-2023 Top 10 CE Brands, 2022-2023 Global Top 15 Smart Connected Devices Brands, 2022-2023 Global Top 10 Smart Phone Brands, 2022-2023 Global Top 10 Intelligent Vehicles Brands, 2022-2023 Global Top 10 TV Brands,2022-2023 Global Top 50 CE Brands and 2022-2023 International Innovation Enterprise Brand Award.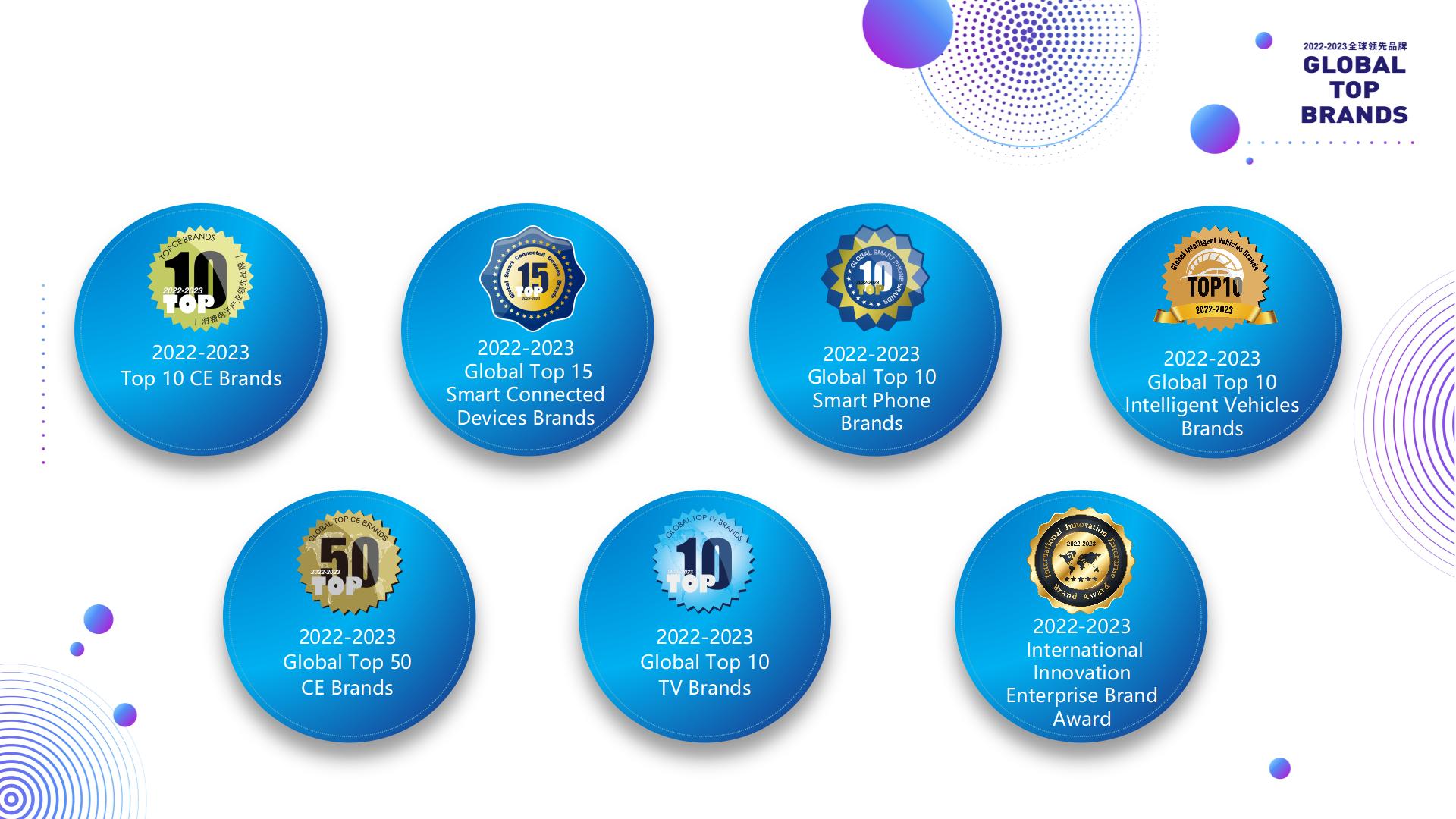 Facing the fast-moving digital age, continuous innovation is the foundation of the development of the consumer electronics industry. Only by constantly innovating and surpassing and exploring unknown areas to reach record highs can we embrace global challenges in a calm manner.